Origami introduction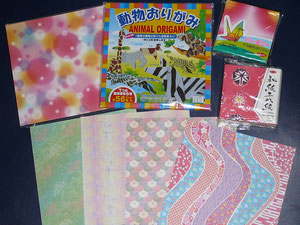 Origami is an easy paper craft commonly used in Japanese classrooms. You can make many different shapes from simple ones to artistic ones, and all you need is just some square pieces of paper.
Young kids enjoy making shapes of familiar objects with origami which can almost be any shape. Therefore origami can be a suitable craft activity under any themes.

What is more, this opportunity could be made at any time, anywhere, as long as you can find some sort of paper around you. You can use a piece of ads while you are waiting for the train, you can use a paper napkin while you are waiting for your meal at the restaurant, or even a receipt in your pocket will do. If it's not square, just fold it from a corner like this and cut off the excessive part by scratching the crease with your finger nails and carefully ripping it off with both hands, then you will get a square shape without using any tools!